CÓDIGO ÉTICO Y DE CONDUCTA RESPONSABLE
4.1. Prohibition of forced labour
4.2. Prohibition of child labour
4.3. Prohibition of Discrimination
4.4. Respect for freedom of association and collective bargaining
4.5. Prohibition of inhumane treatment or abuse
4.6. Health and safety at work
4.7. Wage payment
4.8. Not excessive working hours
4.9. Regular work
4.10. Traceability of production
4.11. Health and product safety
5.1. LOLA LOVES LIFE Sustainability
6.1. Fair competition
6.2. Financial and fiscal responsibility
6.3. Intellectual and industrial property
6.4. Data protection and privacy
6.5. Information confidentiality
8.1. Transparency and sustainability of procurement
8.2. Reference to national legislation and conventions and agreements
8.3. Control and monitoring of compliance
8.4. Ethics committee and complaints channel

At LOLA CASADEMUNT, we firmly believe that our impact has to go beyond our own activity of designing, creating, producing and marketing fashion. For this reason, since our origins in 1981, we have had the vocation of ongoing improvement, growth and innovation, always based on ethical and responsible behaviour, which we have applied to this day. Ethical principles and transparency guide us in all our actions and underpin our mission, vision and values. This commitment and responsible action by the company is set out in this Code of Ethics and Responsible Conduct (hereinafter, the "Code") of LOLA CASADEMUNT GROUP. We therefore ask all our employees, both internal and external, to comply with the following Code of Conduct.
LOLA CASADEMUNT only works with responsible and trustworthy manufacturers or suppliers, whose working conditions and habits are ethical and acceptable in compliance with the principles of the United Nations and the International Labour Organisation.
We encourage you to read this Code carefully, and if you have any questions or if you consider that any of the actions proposed are not being complied with, please let us know using the Whistleblower Channel, so that we can continue to move forward together with the commitment to preserve the ethical principles and values of the company.

The Code must be complied with by all collaborators who are part of the company, manufacturers, suppliers, franchisees, commercial agents, and anyone who collaborates with us or any person who acts on behalf of the company, and is based on the general principles that define the ethical behaviour of LOLA CASADEMUNT:
- All its activities shall be undertaken in an ethical and responsible manner.
- All persons having a direct or indirect employment, economic, social or industrial relationship with the company shall be treated fairly and respectfully.
- All its activities will be undertaken in an environmentally friendly manner.
- All its manufacturers and suppliers (production sites outside the property of LOLA CASADEMUNT) will fully adhere to these commitments and promote their responsibility to ensure that the standards set out in this Code are met.
LOLA CASADEMUNT undertakes to provide the required means so that manufacturers and suppliers are aware of and understand the Code and are able to comply with it.
Our VISION governs every aspect of the business:

PERSONS
Be a great place to work where people are motivated to be the best they can be.

BRAND
Be a global benchmark brand of alternative luxury, recognised and desired all over the world.

PARTNERS
Achieve sustainable, quality growth by creating mutual value with our customers and suppliers.

PLANET
Contribute to building a sustainable planet.

VALUE
Maximise long-term profitability for employees, partners, customers and ownership.

PRODUCTIVITY
Be a highly effective organisation that reacts swiftly, always with respect for the environment.



PERSONS
Be a great place to work where people are motivated to be the best they can be.
BRAND
Be a global benchmark brand of alternative luxury, recognised and desired all over the world.
PARTNERS
Achieve sustainable, quality growth by creating mutual value with our customers and suppliers.



PLANET
Contribute to building a sustainable planet.
VALUE
Maximise long-term profitability for employees, partners, customers and ownership.
PRODUCTIVITY
Be a highly effective organisation that reacts swiftly, always with respect for the environment.
Our VALUES are the result of the goals we have set for the present and the future.
All these values have been with us from the beginning and help us to be better, to continue to grow in a sustainable and constant way over time.
Improvement is a source of opportunities for all of us and for all those who are involved in our project.
The spirit WE ARE LOLA is the sum of our values and the alignment of our teams with them.

COMMITMENT / ETHICS
The real achievements of LOLA CASADEMUNT are those that stand the test of time. And our success is also based on respect.
TEAMWORK
For us, teamwork means being part of the same project and sharing common goals. At LOLA CASADEMUNT, we think that together is better.

CONSTANT IMPROVEMENT / EFFORT

The fashion industry is in an ongoing maelstrom. It is for this reason that our improvement processes must be ongoing in the constant execution of actions that improve results, minimising the margin of error and losses as much as possible.

AUTHENTICITY / DIFFERENTIATION

At LOLA CASADEMUNT, fashion designs for women who avoid the basics, who like to feel different and want to stand out. We are committed to mixing styles, prints, colours, textures and accessories in an eclectic way. They are collections that stand out, among other things, for their attitude.
Authenticity is a value that makes us unique, makes us feel true to who we are and allows us to offer the best of ourselves to the world.

POSITIVISM / FUN

Our brand highlights all the positive emotions associated with colour and energy that pervade our collections. Our choice is the positive thinking that represents each one of us and the feeling that comes over our customers when they wear our collections.

SUSTAINABILITY
Our goal for the year 2025 is that all of LOLA CASADEMUNT and LOLA CASADEMUNT BY MAITE capsules become 100% sustainable.

4.1. Prohibition of forced labour
LOLA CASADEMUNT will not allow any form of forced or involuntary labour at its manufacturers and suppliers. They may not require any "deposits" from employees and may not withhold proof of identity.
Manufacturers shall recognise the right of their workers to leave their workplace on reasonable notice.
4.2. Prohibition of child labour
Manufacturers and suppliers shall not employ minors. LOLA CASADEMUNT defines a minor as a person who is under 16 years of age. If local law sets a higher age limit, we will respect that limit.
Persons aged between 16 and 18 shall be considered as youth workers. They shall not work night shifts or under dangerous conditions.
4.3. Prohibition of Discrimination
Manufacturers and suppliers shall not engage in any discriminatory practices in hiring, remuneration, access to training, promotion, termination or retirement based on race, caste, creed, national origin, religion, age, physical or mental disability, gender, marital status, sexual orientation and/or union or political affiliation.
4.4. Respect for freedom of association and collective bargaining
Manufacturers and suppliers shall guarantee their employees, without exception, the rights of association, affiliation and collective bargaining, without reprisals, and shall not offer remuneration or payment of any kind to employees for the purpose of hindering their exercise of such rights. They shall also adopt an open and collaborative attitude towards the activities of trade unions.
Workers' representatives shall be protected against any form of discrimination and shall be free to undertake their duties as representatives at their place of work.
Where the rights to freedom of association and collective bargaining are restricted by law, appropriate channels should be designed to ensure their reasonable and independent exercise.
4.5. Prohibition of inhumane treatment or abuse
Manufacturers and suppliers shall treat their employees with dignity and respect. Under no circumstances shall physical punishment, sexual or racial harassment, verbal or power abuse, or any other form of harassment or intimidation be tolerated.
4.6. Health and safety at work
Manufacturers and suppliers shall provide their employees with a safe and healthy workplace, ensuring minimum conditions of light, ventilation, hygiene, fire protection, safety measures and access to drinking water.
Clean toilets with drinking water shall be provided for workers.
Where conditions require, they shall provide facilities for the preservation of food.
Sleeping accommodation, if provided, shall be hygienic and secure.
Manufacturers and suppliers shall take the required measures to prevent accidents and injury to the health of workers by minimising the risks inherent in the work as far as possible.
Manufacturers and suppliers shall provide their workers with regular occupational health and safety training. The company shall keep appropriate records of the training courses provided. They shall also assign a health and safety officer within management with sufficient authority and decision-making capacity.
4.7. Wage payment
Manufacturers and suppliers shall ensure that the wages paid to their workers are at least equal to the legal minimum wage or to the minimum wage established by collective bargaining agreement, whichever is higher. In any event, such wages shall always be sufficient to cover at least the basic needs and such other needs as may be considered reasonable additional needs of workers and their families.
4.8. Not excessive working hours
Manufacturers and suppliers shall adjust the length of the working day to the provisions of the applicable legislation or to that established by collective bargaining agreement for the industry concerned, if this is more favourable to the worker.
Manufacturers and suppliers shall, as a general rule, not require their employees to work over 48 hours per week and shall give them at least one day off per 7 calendar day period.
Overtime shall be voluntary, shall not exceed 12 hours per week, 7 shall not be required on a regular basis and shall be paid at a higher rate than the regular hourly rate, in compliance with current legislation.
4.9. Regular work.
Manufacturers and suppliers undertake to ensure that all formulations they develop are within the scope of the applicable local legislation. This way, the rights of workers recognised in labour and social security legislation will not be undermined through formulas in which there is no real intention to promote regular employment, within the framework of ordinary employment relations.
4.10. Traceability of production
Manufacturers and suppliers may not pass on production to third parties without the prior written consent of LOLA CASADEMUNT. Those who do so are responsible for compliance with this Code by such third parties and their employees.
Moreover, manufacturers and suppliers shall apply the principles of this Code to homeworkers who are part of their production chain and shall provide transparency on the workplaces and working conditions of such workers.
4.11. Health and product safety
The manufacturers and suppliers are responsible for ensuring that all products supplied to LOLA CASADEMUNT comply with the health and safety standards of LOLA CASADEMUNT so that the items traded do not pose a risk to customers.

Manufacturers and suppliers shall keep an ongoing commitment to environmental protection and comply with the standards and requirements set out in applicable local and international legislation.
They also undertake to comply with the environmental standards established by LOLA CASADEMUNT including, where appropriate, the measures to reduce and compensate for this impact that are required to apply these standards.
It will therefore be essential to have the full chain of custody for all products that require it and with suppliers that already have the GRS (Global Recycled Standard) certification..

5.1. LOLA LOVES LIFE Sustainability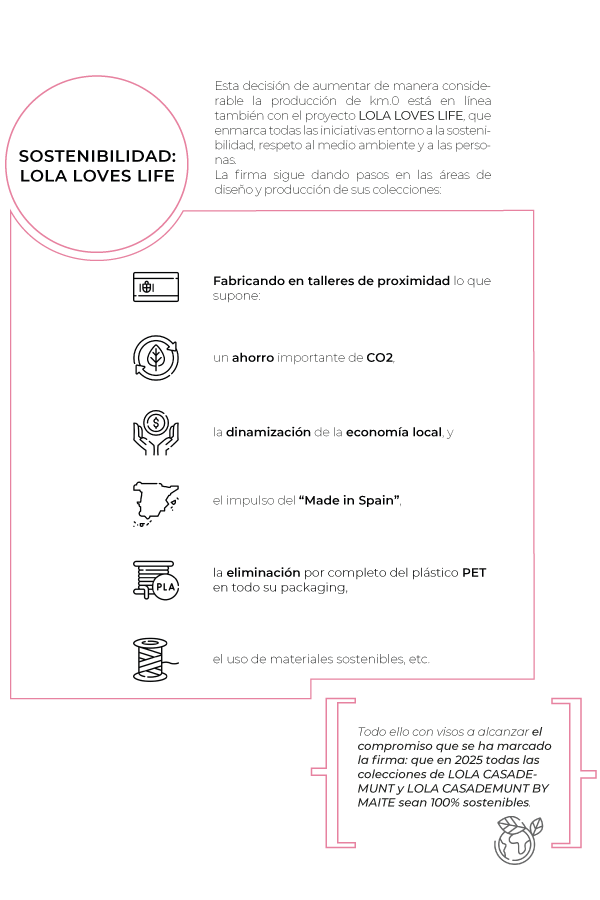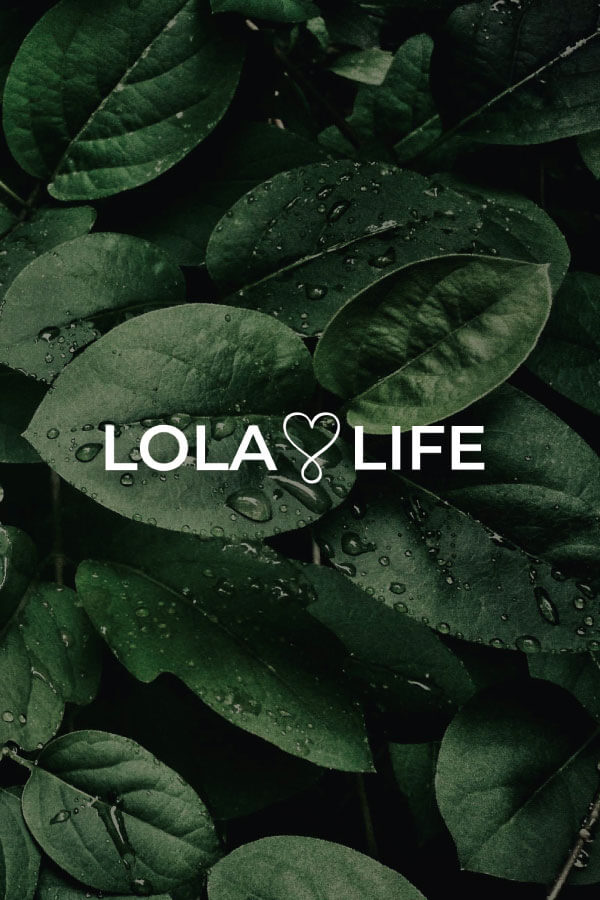 6.- Responsible business principles

6.1. Fair competition
LOLA CASADEMUNT is committed to respecting the companies in its professional environment, always maintaining a fair, honest, frank and loyal relationship with them.
It does not take advantage of beneficial situations in order to engage in unfair behaviour, gain a competitive advantage by infringing laws, nor does it engage in misleading or fraudulent conduct.
It also undertakes to comply with the contracts and conditions agreed.
6.2. Financial and fiscal responsibility
LOLA CASADEMUNT ensures that it complies with tax regulations and reflects the recording of accounting operations in the financial statements in a fully transparent way.
In the same way, it ensures full transparency with the market. All internally or externally disclosed information is true, accurate and complete.
6.3. Intellectual and industrial property
LOLA CASADEMUNT respects industrial property, intellectual property, brand names, licences, patents and copyrights.
6.4 Data protection and privacy
LOLA CASADEMUNT complies with current legislation on personal data protection, privacy, confidentiality and security of personal data.
It ensures that personal data is not disclosed or processed except where required by law.
It does not tolerate the buying and selling of personal data.
It undertakes to maintain the confidentiality of personal data and process them in compliance with the company's privacy and protection rules.
It keeps the information under security conditions required to prevent its adulteration, loss, consultation, use, unauthorised or fraudulent access.
6.5. Information confidentiality
Manufacturers and suppliers have the obligation to preserve the integrity and confidentiality of the information they receive as a result of their commercial relations with LOLA CASADEMUNT.
The obligation of confidentiality will continue after the termination of their relationship with LOLA CASADEMUNT and will include the obligation to return any material related to the company that the manufacturer, supplier or collaborator may have in their possession.

Communication with the media plays an important role in creating and optimising the Group's image. Therefore, relations with the media are the responsibility of those expressly delegated with this task and must be conducted in compliance with the Group's policies and procedures.
The group's external communications shall be truthful, clear, transparent and consistent, avoiding any ambiguity or "spin". The Group's websites will also be developed in compliance with the Code and will undertake not to publish untrue or defamatory information.
In general, other Group employees may not provide information to media representatives or undertake to provide such information without the permission of the relevant positions.

Manufacturers and suppliers shall implement and enforce programmes to implement this Code. They shall designate a management representative who shall be responsible for the implementation and enforcement of this Code.
Manufacturers and suppliers shall make this Code known to all their employees and those who are in any way involved in the production chain of LOLA CASADEMUNT products.
A copy of the Code translated into the local language shall be posted in a place accessible to all workers.
8.1. Transparency and sustainability of procurement
Manufacturers and suppliers shall show honest, upright and transparent behaviour in their activity, keeping adequate accounting records to facilitate the traceability of their decisions, as a preventive measure against any corruption, bribery and extortion that may occur.
Manufacturers and suppliers shall not offer, grant, solicit, or accept gifts or gratuities to/from purchasers of LOLA CASADEMUNT that contravene the provisions of the Code of LOLA CASADEMUNT.
Manufacturers and suppliers shall not manipulate or influence their workers or falsify their files or records in such a way as to disrupt the processes of verifying compliance with this Code.
Manufacturers and suppliers may not offer or accept any form of remuneration that is intentionally or unintentionally intended to interfere with the impartiality or objectivity of those parties designated by LOLA CASADEMUNT to undertake inspections and audits of compliance with this Code.
8.2. Reference to national legislation and conventions and agreements
The provisions of this Code constitute minimum standards only.
In the event that national legislation or any other applicable legislation or any other commitments assumed or applicable, including collective bargaining agreements, regulate the same matter, the regulation that is most favourable to the worker shall apply.
LOLA CASADEMUNT assumes, as part of its internal regulations, the content of the national and international agreements and conventions to which it has adhered and which are applied in its relations with manufacturers and suppliers, undertaking to promote and comply with them.
8.3. Control and monitoring of compliance
Manufacturers and suppliers shall authorise LOLA CASADEMUNT and/or designated third parties to monitor the proper enforcement of this Code. To this end, they shall provide the means and access to facilities and documentation that are required to ensure such verification.
8.4. Ethics committee and complaints channel
This Code is aligned with the principles and values set out in the Code of Conduct and Responsible Practices of LOLA CASADEMUNT, which regulates an Ethics Committee and a Complaints Channel to ensure compliance.
Moreover, this Code ensures the environmental and social requirements of our GRS (Global Recycled Standard) certification.
In this regard, and in order to ensure compliance with this Code, the Ethics Committee may act on its own initiative or at the request of a manufacturer, supplier or a third party with a direct relationship and a legitimate commercial or professional interest, by means of a complaint made in good faith.
LOLA CASADEMUNT has a communication channel available to all persons who have a professional or commercial relationship with the company, through which they can express any situation involving unethical behaviour or behaviour that does not comply with this Code, the law or internal regulations.
LOLA CASADEMUNT guarantees an effective, confidential and secure whistleblowing channel, where the information is only shared with the people who are essential to undertake the investigation and resolution of the complaint. This channel complies with Act 2/2023 on the protection of persons who report regulatory violations and the fight against corruption.
To this end, communications made under this Code which already contain allegations of non-compliance or queries regarding the interpretation and application of this Code may be sent to the company by any of the following means:
Through the URL: lolacasademunt.canaldenuncias.com
Regular mail to the address: Edificio LOLA CASADEMUNT, Carretera C-251, KM 5.5, 08440 Cardedeu, Barcelona (Spain) addressed to the Ethical Channel.
Document approval: The Code of Ethics and Responsible Conduct has been approved by the Board of Directors of LOLA CASADEMUNT S.L., in September 2023.